Making a new logo:
The version 1 "EPA" format is very restrictive.
The logo can only be 136x126 or 136x84 - this seems to depend on the BIOS,so the safest way to go on is to make your new logo the same size as the original logo.
Also,the EPA version 1 logo is displayed on a "text mode" screen (the screen is in textmode when booting your PC)- so the logo can only have one color (apart from the background black) in each "character cell",8 pixels wide,14 high - and you only have a 16 color palette to work with(15 colors and black background). It *might* be possible to change the black background color,but I have not tested this - and I'd expect very weird colors to show up.
Furthermore I've read (but I haven't been able to verify this), a maximum of 905 pixels can be coloured. As far as I can understand the AWBM specs(from Linkit Productions), the only image size limit for the version 2 AWBM-type logo is how much free space there is in the BIOS file.However, it is very possible that an image which size differs from the original will be misplaced or distorted when shown, so using the original size is advisable.
The version 2 AWBM logos should support all 16 colors in the palette in each character cell,and not just 1 color plus background per cell.
Your next step depends on whether you have a BIOS with a version 1 or version 2 logo - unfortunately it does not seem like you can use a version 1 logo in a version 2 BIOS or vice versa. Also, the Award BIOS mainly exist in versions 4.50, 4.51 and 4.60 - and there doesn't seem to be any connection between which can handle version 1 or version 2 logos.

Creating a new logo - EPA version 1:
If you have the version 1 logo,load up a new image in Paint Shop Pro like this:(136x126 or 136x84),4 bit color,black background,white foreground color:

To figure out where the "character cells" are,and therefore the limits for color changes,use a "grid" :

File->Preferences->General Program Preferences : tab "Rulers and Units"

Activate the grid under "View->Grid" or hit CTRL-ALT-G


Now get creative and make a logo that looks useable despite the limitations.
An example,making the logo using the grid to help:

However, you must be aware that you cannot go on with this colored logo - you need another program to fill out the cells with colors. Also,you cannot choose the colors yourself.

The available colors are:

Download a Paint Shop Pro palette file here
So this is strictly for experimenting until you've found something that looks cool to you.
When this is done,you need to copy/convert the result into a black and white bitmap for further processing :


and save it as a standard Windows bitmap file(remember to decrease the color depth to 1 bit/2 colors first).
Load it up again,this time with Award's BMP2EPA.EXE (DOS,works fine in Windows console) program :

BMP2EPA logoname.BMP logoname.EPA

and then colorize it:

BMP2EPA.EXE is fairly straightforward to use - load up the bitmap,click the color you want to fill in the cells(the palette in the lower left corner),click the cells to fill with color,and finally save the image.
Note however,that if you cancel your artwork instead of saving and exiting "nicely",the program seems to have a tendency to mess up the files - so please exit properly.
There is also a shareware Windows program (BMPtoEPA) from http://www.flazh.de to create EPA's and colorize bitmaps - but when unregistrered it will add a Watermark to the .EPA,and personally I don't want to spend 10 $ on a "nicer" Windows program when I have a fully working DOS program that does the same thing.

Creating a new logo - EPA version 2:
If you have a version 2 (AWBM) logo,you can just go ahead and make your logo with the desired colors in Paint Shop Pro like above - (FILE->NEW, 136x126 or 136x84 to be safe,16 colors,black background),and save the coloured logo as a standard Windows bitmap file.Then get the AWBMMAKE program from Linkit Productions,and convert your bitmap to an AWBM-file:

Pretty easy,simply type:

AWBMMAKE logoname.bmp
and hit Return a couple of times to go through the steps.
Be sure to read their instructions,though - it seems like Asus and QDI boards requires special attention.


Important update:
Unfortunately it seems like Linkit's website has died, however, some very bright programmers named Sergey Nikolayev and Artur Prokopiuk have created EPACoder, a FREE WIN32 program that can do everything the Linkit-programs could, but even better, and using a GUI so you don't have to mess with command line parameters anymore. As seen in the screenshot, it can convert from EPA to BMP and back, and also between version 1 and version 2 logos, so now you just need to create the bitmap-image in an editor and this brillant program handles all the conversions.
You still need to use CBROM to add the EPA to the BIOS file, though.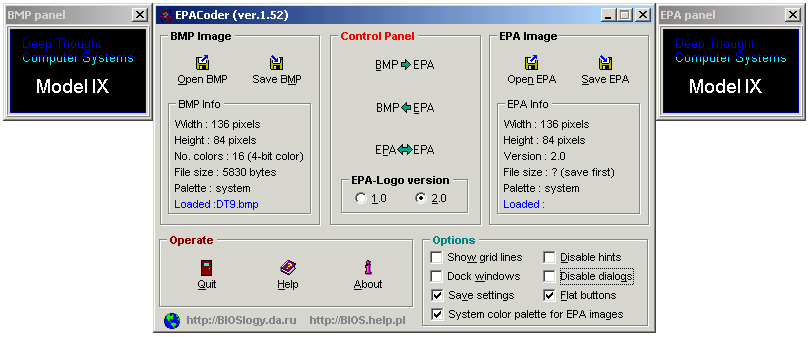 At last,when you've made your logo and converted it to EPA/AWBM format,comes the time to flash the BIOS.
First,however,you need to get the logo into the BIOS file - which is again achieved using the CBROM.EXE program:

CBROM biosfilename.ext /EPA logoname.ext (In my case : CBROM6 7IX.F4A /EPA dt616.epa)
Make sure to read any error messages and do NOT attempt to flash if anything seems wrong.